Beauty & Self
Books & Music
Career
Computers
Education
Family
Food & Wine
Health & Fitness
Hobbies & Crafts
Home & Garden
Money
News & Politics
Relationships
Religion & Spirituality
Sports
Travel & Culture
TV & Movies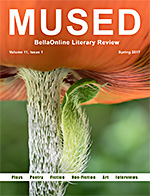 In our modern world of 24-hour diners and around-the-clock email, it sometimes seems as if we've lost track of nature's cycles. But then the Spring Equinox comes along and reminds us to pause. For thousands of years, cultures around the world have recognized this one special day as representing a balance of light and dark. It's a unique moment in time where our world settles in equilibrium – just for a breath. And then the sunlight shines out and pulls us deeper into Spring.

Enjoy the Mused Spring Equinox 2017 Issue



Hangman / Word Search / Word Scramble
Body Care - BB Lee, Editor

Time for some summer fun. Play fun games on the Body Care Site.




Beauty on a Budget
Cosmetics - Katrina Simmons, Editor

Purchasing makeup can be unnecessarily expensive. With a few tips and tricks you can find out how to cut costs and still look fabulous.




Crafts for Canada Day – July 1st
Crafts for Kids - Launa Stout, Editor

In Canada they sometimes refer to Canada Day as "Canada's Birthday", but long ago it was called Dominion Day.




Square Up Fabric Yardage
Sewing - Cheryl Ellex, Editor

There are a few ways to square up or true up a piece of woven fabric, an often necessary part of sewing. This means that the warp and the weft threads are running as expected, perpendicular to each other.




Chicken in Coconut Sauce Recipe
Quick Cooking - Karen Hancock, Editor

Quick, easy, and yummy! That is what this dish is. It has minimal ingredients and takes very little hands-on time. Perfect for busy cooks.




4th of July Berry Cream Pie Recipe
Desserts - Karen Hancock, Editor

Here is the perfect dessert to serve on the 4th of July as well as Flag Day (June 14th) or any other Patriotic holiday. It is not only very attractive and patriotic, but it is delicious.


| Google+ |
E D I T O R R E C O M M E N D E D
Paradise in Plain Sight


Paradise in Plain Sight: Lessons from a Zen Garden by Zen Priest Karen Maezen Miller, is both memoir and Zen guide. Maezen Miller shares experiences repairing and tending a historical Japanese garden in her own backyard, guiding the reader towards direct insight. It is beautifully written, honest, and relevant to the modern seeker of any faith.
Turn On Your Inner Light by Debbie Mandel


This entertaining book offers easy to implement stress-management tools for 29 common life situations: techniques, visualizations and a fitness workout to get you off the couch. Take back your power and live more energetically. Don't vent - reinvent!
Jesus of Nazareth


Award winning film produced by Franco Zeffirelli, depicts the life of Jesus Christ from birth to resurrection. Originally made for television in 1977, this set is available on DVD or VHS. It´s been a few years since I last watched this awesome depiction of Christ´s life, but it still remains one of my favorite.