Beauty & Self
Books & Music
Career
Computers
Education
Family
Food & Wine
Health & Fitness
Hobbies & Crafts
Home & Garden
Money
News & Politics
Relationships
Religion & Spirituality
Sports
Travel & Culture
TV & Movies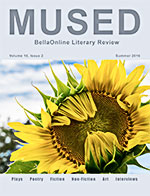 For many people, summertime is the perfect time to explore creativity. Plein air artists bring easels to gardens and beaches, showcasing nature's colors in oils, acrylics, and watercolors. Photographers ferret out a million sights to immortalize. Poets and writers stretch languidly beneath a shady oak tree, listening to the gentle buzz of insects, and constructing entire worlds out of the ether.

Enjoy the creativity of our community of artists - and then explore your own! We'd love to see your works for upcoming issues!

Summer Solstice 2016 issue of Mused

Packing Light For A Mexico Cruise Vacation
Cruises - Nancy Schretter, Editor

If you're flying to your embarkation port for a cruise to Mexico, consider packing light. Traveling with just carry-on luggage can help avoid lost or delayed baggage problems caused by flight problems. Here's a detailed carry-on only packing list for a Mexico cruise plus some helpful packing tips.




Ghostbusters (2016) Movie Review
Comedy Movies - Ricardo Castano IV, Editor

Now I'm not sure if you've heard, but Ghostbusters got a remake. I wouldn't be surprised if you hadn't, it's been kinda under the radar. It's with an all-female lead cast as well, so there's something new. Here's my review of this movie that would never be at the center of any kind of internet hate.




3 Avocado Food Hacks for Sandwich Meals
Sandwiches - Connie Mistler Davidson, Editor

What is a food hack? Hack was originally a computer programmer term for a workaround or trick to get something done in a non-traditional way. Hacks are creative and clever. Here are three food hacks for using avocados to make your sandwich meals tasty and interesting.




The Canadian Butter Tart
Senior Travel - Hazel M. Freeman, Editor

Never had a gooey delicious Canadian butter tart, well you're missing out. If you love pecan pie then you'd probably enjoy these delectable flaky little tart shells filled with butter, syrup, sugar and eggs, and baked to perfection in the oven. Read on for a recipe.




What do I want from God ?
Christian Living - Lynne Chapman, Editor

Am I asking God for true spiritual treasures, or simple comforts of this world?




Orchid Mericlones - Why go for this method?
Orchids - Anu Dubey Dharmani, Editor

Are mericlones good or are they useless? Read on about the pros and cons of mericloning.


| Google+ |
E D I T O R R E C O M M E N D E D
The 500 World´s Greatest Golf Holes


This is a great coffee table book with photos and narrative describing some of the best golf holes in the world. Makes a great start for your bucket list of golf courses to visit. Published by Golf Magazine.
The Killer Angels by Michael Shaara


Best historical novel ever, and I don´t even like most historical novels. Epic and unforgettably intense! Among other things, reading this will teach you how to hook your readers through writing strong character emotion.
Grave Mercy


Grave Mercy by Robin LaFevers is set in medieval Brittany and features Ismae, a seventeen year-old peasant girl turned assassin who must pose as the mistress of principled knight Duvall in a secretive land of supernatural visions and imminent invasion by the hated French.