Beauty & Self
Books & Music
Career
Computers
Education
Family
Food & Wine
Health & Fitness
Hobbies & Crafts
Home & Garden
Money
News & Politics
Relationships
Religion & Spirituality
Sports
Travel & Culture
TV & Movies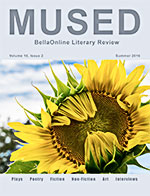 For many people, summertime is the perfect time to explore creativity. Plein air artists bring easels to gardens and beaches, showcasing nature's colors in oils, acrylics, and watercolors. Photographers ferret out a million sights to immortalize. Poets and writers stretch languidly beneath a shady oak tree, listening to the gentle buzz of insects, and constructing entire worlds out of the ether.

Enjoy the creativity of our community of artists - and then explore your own! We'd love to see your works for upcoming issues!

Summer Solstice 2016 issue of Mused

When You Bring Pickles to a Potluck
Etiquette - Lisa Plancich, Editor

Labor Day and Potlucks go hand in hand. Make sure your hands arrive with the proper covered dish and something to drink.




7 Tips For Choosing A Great Cruise Cabin
Cruises - Nancy Schretter, Editor

Selecting a cruise ship stateroom can often be a challenge. The best cruise cabin for each guest depends on a number of personal preferences, each of which should be carefully considered. Ship layout is key as well. Here are seven tips to help you pick the best stateroom for your cruise vacation.




Murski Homestead Basil Cranberry Jelly Recipe
Senior Travel - Hazel M. Freeman, Editor

Deep in the heart of bluebonnet country, tucked into the beautiful foothills of the Texas Hill Country, you'll find the lovely Murski Homestead B & B.




My Big Mouth - Lessons From The Bible
Christian Living - Lynne Chapman, Editor

We all have heard that "Talk is cheap." This phase gives us the impression that words have little or no value, and are relatively harmless.




The willows of Wular Lake in Kashmir, India
Romantic Getaways - Marianne de Nazareth, Editor

The willows in the Wular lake in Kashmir need to be removed to increase the capacity of the lake




19th Amendment Ratified
History - Vance Rowe, Editor

On August 26, 1920, the 19th Amendment was ratified, finally giving women the right to vote.


| Google+ |
E D I T O R R E C O M M E N D E D
True Balance by Sonia Choquette


This terrific guide gives you fun, everyday ideas with which to open and strengthen all seven of your chakra energy-centers, including the third-eye chakra and crown chakra which help you to connect with psychic phenomena and the divine.
Caillou Goes Back to School DVD


Caillou Goes Back to School DVD is great for kids who are Caillou fans, and other kids who enjoy watching shows that depict family life.
Personal Alarm & Whistle Combo


This is a wonderful personal alarm and whistle combo suitable for kids or adults. The personal alarm fits on all size wrists, and is easily adjustable with the Velcro type strap, which keeps it nearby while walking, jogging, or traveling. The alarm is loud and quickly alerts those nearby if one needs help.