Beauty & Self
Books & Music
Career
Computers
Education
Family
Food & Wine
Health & Fitness
Hobbies & Crafts
Home & Garden
Money
News & Politics
Relationships
Religion & Spirituality
Sports
Travel & Culture
TV & Movies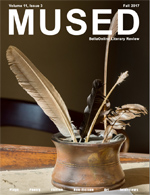 Autumn is a season for counting our blessings. For realizing just how much we have in life where so many others are without. It can often be easy to take things for granted. Things which millions of people desperately dream of having. By pausing for a moment, and looking around with mindfulness, we can find a new center. Begin with fresh energy.

Enjoy the Mused Autumn Equinox 2017 Issue



The Gifted Kids' Survival Guide – Book Review
Children's Books - Launa Stout, Editor

If you're (GT) gifted and talented, you've probably got lots of questions about why you think and learn that way you do. You probably think faster and more intensely than other kids.




Atole - Chocolate and Corn
Mexican Food - Mickey Marquez, Editor

Atole, is called champurrado when made with chocolate. In Mexico, on December 12th, champurrado is front and forward at dawn, when the Feast of the Virgin of Guadalupe begins, it remains there throughout the Christmas season. Made with nixtamlized corn, it is a comfort food with ancient Aztec roots.




Planes, Trains And Automobiles
Movie Mistakes - Isla Grey, Editor

Neal Page is determined to get home for the holidays. Will he make it with the help of Del Griffith. Try to find these movie mistakes in "Planes, Trains and Automobiles".




Dying for Christmas Book Review
Suspense / Thriller Books - Karen Hancock, Editor

Jessica Gold is doing some last minute Christmas shopping, stops for a coffee, and is persuaded to get a drink with a very good-looking man named Dominic Lacey, who keeps her captive and tortures her. She certainly doesn't expect to get out alive.




2018 Golden Globe Nominations Announced
Entertainment News - Trina Boice, Editor

This morning, the nominations for the 2018 Golden Globe Awards were announced! Here is the complete list!




The Origin of Werewolves
Folklore and Mythology - Ky Greene, Editor

Why do we romanticize werewolves? Perhaps part of the allure comes from their ability to access primal qualities we can never known ourselves. Perhaps part of it comes from their supposed origin.


| Google+ |
E D I T O R R E C O M M E N D E D
Harvey Penick´s Little Red Book


This isn´t just another one of those instruction books written by a local golf pro. Penick is easily the most insightful instructor the game has seen. Little Red Book is a huge dose of reality about the golf and how to improve your game.
Ordinary People as Monks and Mystics


This non-denominational book is appropriate for any religious path, and helps you to explore your spirituality whether you are more of a mystic or more of a monk. Both approaches are valid.
OSTRICH - A Little Book About Life´s Ups and Downs


OSTRICH - A Little Book About Life´s Ups and Downs is a self-help manual of sorts to help women find their balance and their way through life´s many mazes because Life Is What Life Is - Nothing More and Nothing Less... A unique book for women in a rhyming saucy, seussy entertaining style with a New Age attitude. It´s eclectically styled, wisdom gone wild for a woman´s inner child. By Kate Woods